Crossover to the Future
Sophisticated and edgy, the Resonance Concept unites the fluid nature of space with crossover athleticism. An aerodynamic V-themed design starts up front with the tinted acrylic grille, moves over the sculpted hood, and is carved out in distinctive side character lines. The unique pillar design makes the moonroof look like it floats above the passengers, while satin chrome accents throughout add refined finishing touches.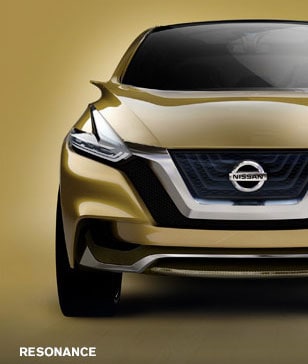 LED Lights
Resonance's boomerang shaped headlights and taillights cast a menacing glow-and leave a lasting impression.
Bold Rims
Cover more ground thanks to one Resonance's most distinctive features-huge 22-inch aluminum-alloy wheels.
Large Moonroof
A full-length glass panel roof stretches over both rows of seats, bringing the outside in, and guaranteeing exceptional views of the sky, moon, and stars.
VIP LOUNGE FOR FIVE
Modern, Airy Interior Design
With its white, buttery leather seats and natural wood patterns, the spacious Resonance Concept exudes interior sophistication. The holographic dashboard display acts as the hub for navigation, entertainment and communication systems. Lights that turn on in sequence as you settle into the cabin, and an open glass roof that gives passengers a panoramic view of the outside world, make Resonance truly premium.
SUSTAINABLY DYNAMIC
Advanced, All-wheel Drive Hybrid Drivetrain
Resonance is light on its wheels, but not at the expense of real power. Its hybrid drivetrain blends respect for the environment and performance, bringing us to the next era of crossover innovation. Equipped with Nissan's revolutionary "one-motor, two-clutch" technology, it combines a smaller 2.5-liter gas engine with an electric motor, and Nissan's next-generation Xtronic CVT® (Continuously Variable Transmission). The electric motor is powered by a lithium-ion battery that's so smart, it recovers kinetic energy that usually gets lost when braking, and recycles it back into the power supply.